Quality pipe products and pipe fittings beneath the
TAP

brand and OEM products


We provide high quality HDPE pipes, corrugated pipes and fitting accessories for various purposes as in water transmission and distribution system, electrical conduit system and cable protection application, Sewage and Drainage systems.
High Quality HDPE pipes and fittings for water
transmission systems which are also applicable for water pressure systems and manufactured accordingly to international standards, free from cracks, rust resistant and no chemical contamination.
High Quality HDPE pipes and fittings for Electrical conduit and cable protection systems.
Its strength it that its extremely durable under all weather conditions and has a long lifetime. The pipes are coil-able from size 16mm – 180mm.
High Quality HDPE corrugated pipes and fittings for sewerage and drainage
are extremely durable for all chemical substances. Its strengths lie in its high stiffness and its lightweight which allow mobility in transportations and installations.
For over 33 years, Thai-Asia P.E. Pipe Company Limited has been dedicating all efforts and time in developing the production of high quality HDPE pipes and fittings for large scale or mega projects, specially customized products along to OEM productions for overseas customers.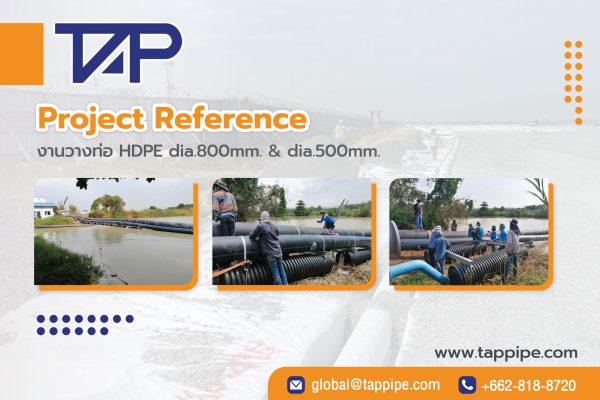 Our HDPE corrugated TAPKORR pipe can also be used as a float. Several advantages of our HDPE corrugated...
read more →
March 23, 2023