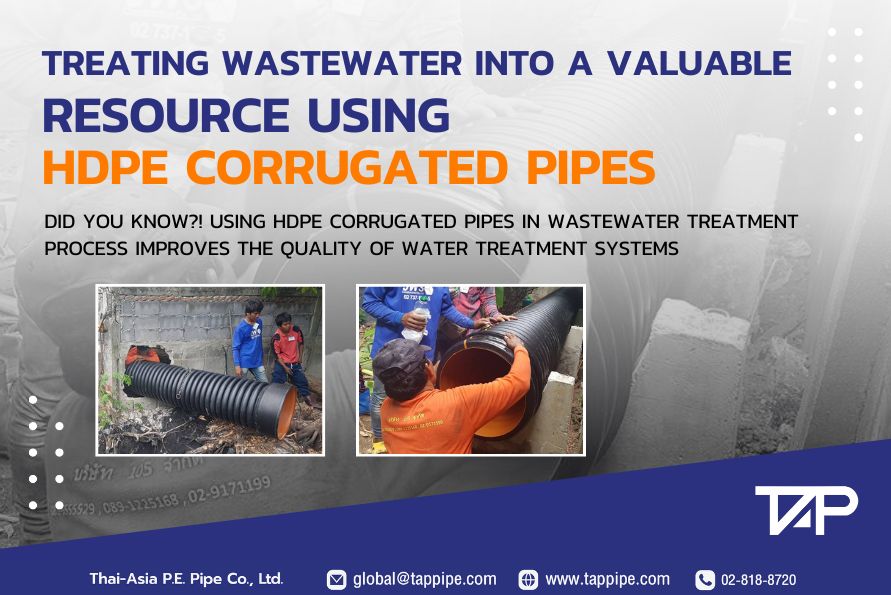 Did you know?! Using HDPE corrugated pipes in wastewater treatment process improves the quality of water treatment systems and promotes environmental sustainability.
Wastewater treatment is an important process to ensure that the water that is returned to the environment is of good quality and sufficient in the future. The water must be clean and must not affect the environment and human health. The use of HDPE corrugated pipes in the wastewater treatment process is therefore an interesting alternative as HDPE corrugated pipes has outstanding characteristics that is suitable for improving wastewater treatment process. Some outstanding Characteristics are as follows:
HDPE corrugated pipes

is resistant to chemicals and organic compounds found in wastewater. HDPE pipe can reduce the problem of chemical corrosion in the pipes, causing no damage to the wastewater treatment process.

HDPE corrugated pipes

reduces the density of sediment in treated water as the surface of the pipe is very smooth, it allows the water to flow through smoothly.
High quality

HDPE corrugated pipes

installed by experienced technicians will not have any leakage in the wastewater treatment process and can reduce the loss of valuable water resources.

HDPE corrugated pipes

are environmentally resistant and can withstand high temperatures. HDPE pipe is also durable and can be used over 50 years.